Digging Deep Touring Exhibition
Digging Deep Touring Exhibition 
Digging Deep is a touring exhibition designed and curated by the Black Miners Museum/Nottingham News Centre, available for loan to schools, educational institutions, museums and heritage related organisations.
It showcases the experiences and narratives of former African Caribbean coal miners through creative arts and publishings such as:

Exhibition panels with audio commentary featuring aspects of the personal journeys, experiences and narratives of former coal miners of African Caribbean heritage (i.e Black British miners)
Original artwork by  aspiring and established artists
Documentary films and videos 
Mining migration stain glass window by Stella Chadwick, artist and volunteers
Portrait photography by David Severn
Archive and contemporary images
Mining memorabilia and rare artefacts
Black Miners' poetry and literature 

And much more!
To hire the Digging Deep touring exhibition, contact info@blackcoalminers.com for details and prices.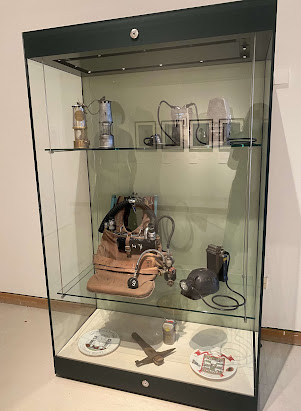 Previous Digging Deep Tour Dates:
The Mining Institute (Neville Hall) / The Common Room of the Great North, Newcastle, Autumn 2021
Woodhorn Mining Museum, Northumberland October – November 2020
National Coal Mining Museum for England (Wakefield, Yorkshire) from 21st September 2019 – 15th March 2020
The Coal Authority, Mansfield, Nottinghamshire 2018
Pontypridd Heritage Museum, South Wales 2018
New Art Exchange, Nottingham October 2018
Preston Black History Group 2018
Bilsthorpe Heritage Centre, Newark, Nottinghamshire July 2017
The African Caribbean National Artistic (ACNA) Centre, Nottingham 2017
For enquires: info@blackcoalminers.com
Project flyer:
'No Joke' by Honey Williams with project volunteers, 2018
Mix- media painting
Nottingham News Centre Art Collection (ref.18629)