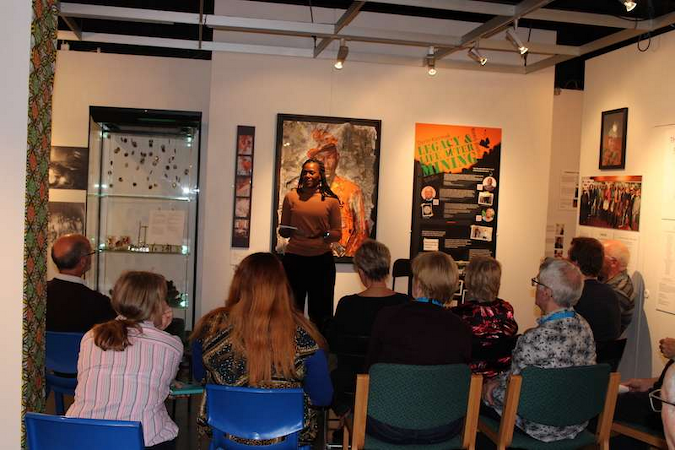 Contributions to publications, broadcast media production, exhibition content creation, artefacts, books relating to mining heritage, cultural and historical objects of interest listings produced and/or collated through the heritage preservation work at Nottingham News Centre:
PUBLISHED BOOKS & JOURNALS FEATURING MINERS OF AFRICAN CARIBBEAN HERITAGE
'Black Miners and The Miners' Strike' by Garry Morris New Beacon Review Numbers2/3 November 1986 p. 14
Invisible Britain Portraits of Hope and Resilience.Edited by Paul Sng. Policy Press, 2018
Memories of the Nottinghamshire Coalfields by David Bell Countryside Books, 2008
An Industry Now Lost The Pride, passion and Pain of Mining by Arthur Cole. Wordcatcher Publishing 2018
Coal Mining in the East Midlandsby David Amos and Natalie Braber. Bradwell Books, 2017
Jamaicans in Nottingham Narratives and Reflections by Norma Gregory. Hansib Publications 2015. P. 43, 45
Portraits of Britain. Hoxton Mini Press, 2018
Images of the Past the Miners' Strikeby Mark Metcalf, Martin Jenkinson, Mark Harvey. Pen & Sword History 2014 p. 168, 174, 189, 215
Striking Back Photographs of the Great Miners' Strike 1984-1985 by Mike Simons. Bookmark Publications LTD 2004 p.45
Thoresby the End of The Mine. Photographs by Chris Upton. 2015 p.31
Digging Deep featured in New Art Exchange brochure September – December 2018 p.8
135th Durham Miners Gala Souvenir Brochure. Saturday July 13th 2019 Durham Miners' Association (front cover, p25, 36)
The First Black Footballer: Arthur Wharton 1865-1930. By Phil Vasili. Frank Cass Publishers, 1998
FRIEZE Contemporary Art and Culture magazine, No. 217 March, p. 61, 2021
The Life of William Chong, A Windrush Passenger, by Bishop James Stapleton OBE and Esther Stapleton-Stone, 2021
CONTRIBUTIONS TO MEDIA PRODUCTION (Broadcast, Print and Online)
DVDs
Digging Deep Coal Miners of African Caribbean Heritage National Narratives from Across the UK

 

2018
Skin & Coal

 

by Concord Media 1986, director Claudine Booth
BBC Inside Out

 

Brothers Beneath the Surface

 

12th September 2016
British Coal Headquarters Technical Department Television Production

 

A Smell of Burning the Self Rescuer1987
The Annesley Vampire
Brassed Off

 

(film) 1996
The Proud Valley

 

(Paul Robeson) film. 1940
PHOTOS & IMAGES
Hundreds of Nottingham News Centre Archive images on request
DIGGING DEEP TOURING EXHIBITION CONTENT
8 colour wall panels with text, images and audio, (size 2 metres x 85 cm). Themes: INTRODUCTION, MIGRATION TO THE UK, FINDING WORK & BECOMING A MINER, TEAMWORK & CAMARADERIE, ACCIDENT INJURIES & DEATH AT THE COLLIERY, MINERS STRIKES & THE STRUGGLE FOR INDUSTRIAL SURVIVAL, LEGACY & LIFE AFTER MINING, THANK YOU
8 x exhibition touring pull up banners (2 metres x 85 cm)
Exhibition introduction panel
10 miners 'portraits photography by David Severn (an be printed to size as wall transfers) A2 size
10 miners' objects photographs by David Severn (foam-backed), A2 size
10 small commentary panels accompanying photos
10 small captions/quotes/interesting facts
1 large painting (framed) 'No Joke' by Honey Williams and volunteers
Selections of artists' drawings
Biographies of photographers and artists
Biography of exhibition curator
1 frame photo A2 of black miner at work as a Shaftsman with biography of photographer, Chris Upton
4 maps – showing geographical locations of black miners (local, national, global contexts)
Group photo (foam backed) of black miners' reunion
Poems as wall transfers
Digging Deep project video documentary (60mins)
Key words to be displayed, encouraging accessibility for younger visitors or visitors with learning challenges: loyalty, survival, camaraderie, legacy, trust, equality, community, purpose, sadness, intensity, tolerance, fellowship, diligence, dust, dryness, dampness, duty, obligation, pain, death, survival, servitude, love, dedication, care, camaraderie, friendship, silence, noise, reflection
Coal – pile (2 tonnes/ 2 large sacks)
A selection of 3D coal art /sculptures/jewellery
Mining artefacts (tools, clothing etc.) in display cabinet – with captions
Exhibition leaflets /posters
Feedback /evaluation area (postcards)
Portable displays
10 portable black display panels with black mining heritage content (6 poles)
2x 6 portable black panels (hinges)
1 x portable black panel with side panels
1 x 6 portable blue panels
Colliery banners of those which feature black miners (1 metre square) either: Gedling Colliery (Notts), Dean & Chapter (Durham NUM) Deep Navigation (Wales), North Selby (NUM) North Gawber (NUM)
Coal News / Coal articles featuring black miners
MINING ARTEFACTS & OBJECTS
2 x Yellow helmet with ear protectors and front lamp (one without front lamp)
Black helmet vintage (c1950s or earlier) and lamp (head torch)
1 x white plastic helmet (modern)
1 x helmet lamp (single item)
Miners boots (vintage)
Soap dish (vintage) oval
Soap dish (vintage) rectangle
Water canister Regaid, 1930s
Powder bag blue (1950s)
Powder bag battery (winder)
Snap tin (ACME)
Miners lamp
1 beer bottle (empty) – Gedling Colliery beer
Green battery pack belt and battery
Belt battery
3 x self-rescuers
Self- rescuer instruction leaflet
Methane Tester, Type HC III
Evaluation postcards
7 NCMME cards (greeting cards, blank)
1 x NUM Dean and Chapter card
Dust mask
Sherwood Colliery postcard
Sherwood Colliery plate
Gedling Miners Welfare plate
Protective eye googles (modern)
Protective plastic glasses (in packaging)
Knee protectors, yellow & black (one split in two/from an accident underground)
2 x snuff tins
A2 photograph by Chris Upton (Edward
Toy model train Pinxton wagon
Oxygen detector
1 x horse/pony shoe
Troxex – mining safety item (yellow pointer/ monitoring tool)
B.A. Collieries, Gedling Colliery wagon label (vintage)
From Gedling Colliery to Southwater wagon label (vintage)
Thoresby Colliery contractor ID/entrance pass card (modern pit check)
Motties (Checks) brown paper packet with red, yellow and brass token with neck tie/string
3 x motties (checks) from Kellingley, Hucknall and Gedling collieries
4 x brass badges (Nottingham UDM, 1984 NUM strike badge, South Wales areas NUM, WAPC NUM 1984-2014)
Mottie /Token hanging board, wooden (vintage)
3 x Skill's Bus tickets (return tickets) Gedling Colliery service
Colliery Ventilation Officer's calculator – National Coal board (with black case)
Metric Methane Flow calculator – National Coal Board (with black case)
Paul Robeson in New York and the Miners' Eisteddfod in Porthcawl 5 October 1957. Record 331/4 r.p.m, 1957 CAMRIAN South Wales Branch NUM. NUM Transatlantic Exchange.
Mug,' Trust me I'm a Miner', Moorland Pottery
Police riot helmet, c1985
Police helmet, Nottinghamshire, c1985
2 x original 1950s' Ministry of Labour and National Service and the National Coal Board newspaper recruitment advertising for coal miners
MINING TOOLS
1 x pick
2 x spades
Coal (approx. 3 tonnes)
Small hand pick (modern)
MINING BOOKS / BOOKLETS / POSTERS (PRIMARY SOURCE)
4 safety procedure booklets (Strata Rockbolting Operator, Stage Loader Attendant, Transfer Point Attendant, Coal Face Power Loader Operator)
1 x film poster 'Still the Enemy Within' (donated by NUM south wales leader, Wayne Thomas)
3 x safety posters: 'The Good, the bad and the ugly', Standards, only the best way will prevent underground fires', Drive with care everywhere')
Injuries at Work Medical Centre Attendances record book (blank) UK Coal
Service certificate, 50 years
National Coal Board, East Midlands Division, No.3 Area, Safety department, April 1964. Notice of Accident or Dangerous Occurrence at a Mine book (hard back) green
Tower Colliery – Tower Surface Mine map
Tower Colliery newsletter, May 2014
Tower Colliery calendar 2004
MINE SIGNAGE
Downcast shaft sign
Upcast shaft sign
MINING CLOTHING & COSTUMES (ORIGINAL ITEMS)
Florescent orange worktop/t-shirt (small) Thoresby Colliery (from Anthony Kirby, miner)
2 x Florescent orange shorts
1 x orange vest
1 vest (mesh)
1 shorts (mesh)
2 x canvas shirt top
2 x canvas trouser
1 x pair white/rubber gloves
1 orange shirt/top (vintage)
1 x sack and large nappy pin
Women's t-shirt – 'Women Against Pit Closures 'You can't kill the spirit' slogan
T- shirt Miners of African Caribbean Heritage (Sample)
T-shirt Coal Kids (sample)
1 X Bag Digging Deep
AFRICAN CARIBBEAN RELATED COSTUMES /MEMORABILIA (ORIGINAL ITEMS)
Suitcase 1940s
White gloves (leather)
Women's Dresses/tops 1950s/1960s look
Child (female) dress 1950s/1960s look
Man's suits and waistcoats 1950s/ 1960s look
Iron wrist shackles (replica)
Iron chain and key (original)
Coffee, beads, cigar, shells, cocoa
iron manilla trading rings
Conch shell, shells
Vintage records
MINERS FUNERAL CARDS & IMAGES
Deceased black miners' photos/funeral cards etc.
Charlie Davis – (photograph) Gedling Colliery miner
Vernal Archibold Rhoden – (funeral service card) Gedling Colliery miner
Vernon Gregory – (funeral service card) Babbington (Cinderhill) and Gedling Colliery miner
Rupert Fertadou Meikle – (funeral service card) Gedling Colliery miner
Trevor Lloyd Clark (- funeral service card) Gedling Colliery miner
BOOKS ON MINING /MINERS (CONTEMPORARY & SECONDARY SOURCES)
Coal Town by Mik Critchlow. Bluecoat Press 2019
Echoes of the North East Miners by Ken Smith & Dr Tom Yellowley. Tyne Bride Publishing 2019
Lost Industries of the Tyne by Alan Morgan, Ken Smith, Tom Yellowley. Tyne Bridge Publishing 2013
The Whole World in his Hands: A Pictorial Biography of Paul Robeson by Susan Robeson. Citadel Press 1981
The Coalminers of Durham by Norman Emery. The History Press 2009 edition
Memories of the Coal Queens,compiled by Anne Bradley and Rebecca Hudson, NCMME Publications, 2010 (2 copies)
Tom Lamb My Mining Days 1946-1969,NCMME Publications, 2008
Pit Profiles: Re-profiled Kellingley Collieryby Anton Want. NCMME Publications, 2013
Coal Faces Mining Livesby Imogen D. Townsend NCMME 2005
The Driftphotos by Ian Beesley words by Ian McMillan NCMME Publications 2011
Durham Coal A People's History by Andre Clark & George Nairn 2001
Class Against Class The Miners' Strike 1984-5edited by Sean Matgamna. Phoenix Press 2015
The Enemy Withinby Seumas Milne 4th edition, Verso 2014
scar gill, The Unauthorised Biography by Paul Rutledge, Harper Collins Publishers 1993
Facets of Working Lives.Complied by Katharine Carlton and Rebecca Smith. NCMME 2009 ( 2 copies)
The Rhondda Valleysby E.D Lewis. University College Cardiff Press. Reprint of 2nd edition, 1984
Images of Wales Maerdy Rhondda Valleyby David Owen. The History Press, reprint 2014
Coal Society: A History of the South Wales Mining Valleys 1840-1980 by David Egan (1987, Gomer Press)
Nottinghamshire Dialectby Natalie Braber Bradwell Books 2015
133rd Durham Miners Gala Souvenir Brochure. Saturday July 8th 2017 Durham Miners' Association
135thDurham Miners Gala Souvenir Brochure. Saturday July 13th 2019 Durham Miners' Association
A Century of Struggle Britain's Miners in Picture 1889-1989. NUM 1989 (Arthur Scargill signed copy)
Coal Mining and the Cameraby Rosemary Preece NCMME Publications 1998
The Big Meeting a History of the Durham Miners' Galaby David Temple. TUPS Boos in association with Durham Miners' Association 2011
Bilsthorpe Colliery A History (and the village re-birth). Bilsthorpe Heritage Society 1983
Welcome to Gedling Colliery British Coal Nottinghamshire Area. 1986
The Nottinghamshire Coalfield 1881-1981 A Century of Progressby A.R.Griffin. Moorland Publishing 1981
Peter the Pit Pony by Laura Simpson. Nottinghamshire County Council 2017
Images of Wales Cwm Rhondaa Fach Trehafod to Maerdyby David Owen. Tempus Publishing 2003
Nottinghamshire Miners' Talesby Angela Franks. Reflections of a Bygone Age 2001
From a Rock to a Hard Place Memories of the 1984/85 Miners' Strikeby Beverley Trounce. The History Press 2015
Coal Not Dole Memories of the 1984/85 Miners' Strikecompiled by Guthrie Hutton. Stenlake Publishing 2005
Look Back in Anger the Miners' Strike in Nottinghamshire 30 Years Onby Harry Paterson Five Leaves Publishing 2014
What is Coal? Brochure by Emma Carol. NCMME
Dave Hopper 1943-2016.Memorial Service Brochure 2016
The Dirty Thirty Heroes of the Miners' Strikeby David Bell Five Leaves. Reprinted 2011
The 1984-1985 Miners' Strike in Nottinghamshireby John Lowe and Jonathan Symcox. Wharncliffe Books. Reprinted 2015
Me and My Lampby Howard G. Awbery. Fastprint Publishing 2014
Strike, Not the End of the Story, Reflections on the Major Coal Mining Strikes in Britainby David John Douglass. NCMME 2005
Bentley Colliery & Bentley New Village Early Developmentby Dave Fordham. Fed el Adoum Publishing 2009
The Miners of Nottinghamshire A History of the Nottinghamshire Miners'Trade Unions by David Amos. Published the Union of Democratic Mineworkers 2013
Over 5,800 Collieries of Great Britain The Complete A-Z Colliery Names Pre – 1947 Owner Areas & Dates.Volume 2 by Colin Jackson 2002. Copies available from NCMME
Controversies in Coal: Internment, impoundment and Intrigue at Harworth Colliery (1913-1924).Complied by David Amos Mine2Minds Education 2017
A Nottinghamshire Pitman's Story by David Coleman. Dayglo Books 2017
Nottinghamshire Collieries on old picture postcardsby Angela Franks. Reflections of a Bygone Age 2000
The Miners in Crisis and War, A History of the Miners' Federation of Great Britain (from 1930 onwards) by R Page Arnot. George Allen & Unwin LTD 1961
Setting Scores: The Media, the Police & The Miners' Strike. Edited by Granville Williams 2014
Margaret Thatcher The Downing Street Years by Margaret Thatcher(1993)
Shafts of light: mining Art in the Great Northern Coalfieldby Robert McManners & Gillian Wales (2016)
The Bevin Boys: War's Forgotten Workforce. The Auckland Project (2018)
The Coal Mine by Derek Slater. Publisher: Rockpool Children's Books LTD (2016)
Nottingham Miners Do Strike!By Keith Stanley NUM Nottingham Area (2009)
Wollaton on old picture postcards. Yesterday's Nottinghamshire Series no.27 by David Ottewell, 1994
Original Belgium Guide to Joining the Mining Industry in the Congo, 1958. Printed in Belgium
NATIONAL COAL BOARD (NCB) BOOKS
National Coal Board Memorandum of Agreements, arbitration, awards and decisions, recommendations and interpretations relating to National questions concerning wages and conditions of employment in the coalmining industry of Great Britain. Part XXXIX, 1stJanuary to 31stDecember 1984. Published by National Coal Board, 1985.
National Coal Board Memorandum of Agreements, arbitration, awards and decisions, recommendations and interpretations relating to National questions concerning wages and conditions of employment in the coalmining industry of Great Britain. Part XXXV.Published by National Coal Board, August 1981.
National Coal Board Memorandum of Agreements, arbitration, awards and decisions, recommendations and interpretations relating to National questions concerning wages and conditions of employment in the coalmining industry of Great Britain. Part XI, 1stJanuary to 31 December 1956.Published by National Coal Board, April 1957.
MINE MAPS (Photocopies of primary sources)
A3 Plan showing officials Second Means of Egress, Gedling Colliery (Main Bright, High Hazles and Top Hard Seams)
Map of British coal seams
MINING JOURNALS & RELATED NEWSPAPERS (regional)
World Coal
Global Review
Oral History Journal
The Voice Newspaper
Nottingham Post
The Miner, Journal of the National Union of Mineworkers, Special Conference edition, August 2008
The Chad
The Institute of Materials, Minerals and Mining